Home
>
Shop
>
Sci-Fi
>
Necrontyr
>
Necrontyr Obelisks Set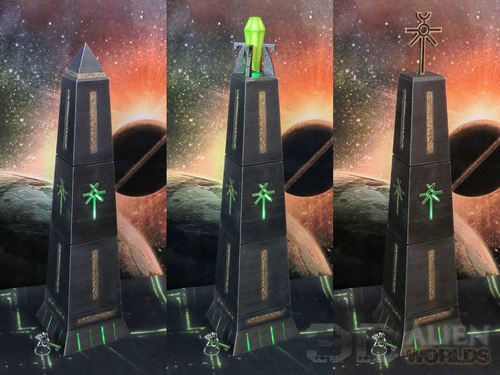 Necrontyr Obelisks Set


A large 33-piece set of Necron-inspired obelisks, with carefully adjusted sizes for lower, middle and upper levels. Each body piece is approximately 120mm high. All pieces can be interchanged to create a huge variety of obelisks to suit your tastes.
Many of the monument sections have cut-out areas, and can be illuminated with small LED tealights.
This downloadable ZIP file contains the following STL files :
Classic obelisk base (3 sizes)
Vertical vent obelisk base with engraving (3 sizes)
Plain obelisk body (3 sizes)
Necrontyr symbol solid body (3 sizes)
Necrontyr symbol cut-out body (3 sizes)
Cartouche engraving body (3 sizes)
Plain pyramid top (3 sizes)
Engraving pyramid top (3 sizes)
Flat top (3 sizes)
Necrontyr symbol top with cut-out (3 sizes)
Standing crystal top with cut-out (3 sizes)
* WARNING : If you choose to print a 3 storey obelisk at 100% scale, it is HUUUUGE!! At 100% scale, it stands approximately 50cm (20") tall.... you have been warned! 😂 However, you can also choose to print all of these obelisk pieces at reduced sizes (down to 50% scale) without problem!
* Necron warrior model not included.
Related blog articles:
This product will be delivered as a .ZIP file pack containing STL files for use on a home 3D Printer. The files are set to 28mm scale but can be rescaled before printing.
All of the parts of this file can be printed on a 3D printer build plate of 125mm x 125mm.
All parts have manifold (3D-printable geometry) and have been test printed.
Models designed for 28mm (1:58 scale) wargaming, but can be resized for other scales on your printer.
Review Stars:

PDF Instructions >
•
Review this item >
Absolutely fantastic terrain. Not only does everything look great, printability was absolutely thought about when these were designed. They've brought another level to our 40K and Kill Team games. Thanks 3dalienworlds!
- by Kevin R Cuthbertson
Our Comment...
Thanks so much for such a glowing review! I guess it matches your glowing paintjob - love it!
Just printed that awesome tomb pyramid and some obelisks for tournament and it's so cool! Thanks for nice 3d models!

From Russia with love!
- by Lord
5 stars
- by don