3DAlienWorlds BLOG
Assembling the samurai farmhouse
2019-06-13
by
David
Here's a how-to guide on assembling a typical farmhouse building using the new Samurai Modular Farmhouse set!

For this demo farmhouse, we chose a 3 section layout with a thatched roof, giving a building footprint of approximately 13cm x 10cm. Including the roof, this gives a total space of 16cm x 12cm x 12cm (H), and used 191g of plastic (printing at 10% infill).... so about $4 USD.

1. Walls :




▲ The 3 wall sections were glued together firmly using superglue - if you're careful, the join lines in the floor and wood posts should be seamless!


▲ Here's the assembled wall sections - although, sorry, I seem to have photographed the wrong building! Anyway, assembly is the same method!




▲ Next the two end wall sections are glue on, making sure the interior walls are the mud surface (the corner posts are also smooth on the inside).


▲ To give the building an extra bit of authenticity, I printed these small flat stones as foundations. If you print the file at 100% scale, it is perfect for the posts in the middle of the walls, but I also stretched a few extra by one or two millimetres to make some bigger stones for the corner posts and doorway. You might also want to try mirroring some for variety.


▲ The stones were then carefully glued beneath all the vertical posts, and two underneath the doorway beam.

2. Interior :
▲ The wall sections come with a rough dirt surface for the floor, but I also wanted to include some wood and tatami flooring. If you are using wood and/or tatami, print enough lifters to cover the area. The pic above shows 2 lifters in the central and right-hand sections. Don't glue these in yet!

▲ The diagram above shows various patterns for arranging tatami mats in rooms. The top row shows regular room layouts, and the bottom shows ceremonial layouts, such as you'd find in castles. Obviously you should use the upper row if you're going for realism in your farmhouse.
▲ I printed 6 tatami mats, and placed them inside to test-fit without gluing. The extra space would be a wooden floor section. Once you've decided on your layout, remove the mats and lifters.


▲ Carefully glue the tatami mats to the lifters in your chosen arrangement.


▲ I added a wooden section of flooring, which would act as a buffer between the genkan (entrance space), and the tatami mat area which would be living and sleeping space.


▲ Here's the completed floor section, placed inside. I recommend that you don't glue the flooring in place yet - it will be easier to paint if you can remove it. The tatami mats and wooden floor surfaces are designed to work well with quick drybrushing, by the way!


▲ I printed two doors with the bar design, as I intend to light the interior later on. To install them, you simply lift them in at an angle from below, and then bump the bottom edge inside the tracks. You could glue them open or shut if you wanted, but they are designed to slide also.


▲ At the end of the genkan entrance area (on the left), I decided to install an oven. This was a typical location for an oven in a small house, as the danger from embers was less on the earth floor. Again, I did not glue the oven in place, to make painting easier later on.
3. Roofing :


▲ Since the house was 3 wall sections in length, I needed to print 4 roof sections. I printed two of the thatch main sections, two of the gable end sections, and two mud-wall upper walls.


▲ After you've glued the roof sections together, it looks like this. The underside is fully textured, and the thick horizontal support beams hold the roof neatly in place.


▲ Another option for the roof is to use these hip-and-gable end sections, instead of the gable sections pictured above! Please note that the 5 posts circled in red above are printing supports, and should be removed with clippers.
Similarly, the wall sections with doorways also have built-in print supports, which should be removed.


▲ Here's the underside of the hip-and-gable roof shape (this roof is 5 sections long, by the way).


▲ This is the completed hip-and-gable roof shape, which is a distinctively Japanese shape still found on new houses today.
4. Completed :




▲ This is the completed house, with roof in place, and our dark samurai warrior for scale comparison.


▲ The roof is of course completely removable, should your warriors want to search the houses.
(hint: ninja!)
---
Printing the modular farmhouses
2019-06-12
by
David
Lots of sections for the modular samurai farmhouse have been rolling off the printer these past few weeks, prototyping and tweaking, and now we have some final version pics to show you!
(We had a partially clogged nozle for some of the pieces, so please forgive the occasional rough section and a few extra holes!!)


▲ There are 3 different exterior finishes in the farmhouse set, allowing you to customize the look of your buildings so no two need ever look the same! Here are the 3 finishes (from left to right):
Vertical wood planks
Dried mud walls
Mud walls with waist-high horizontal wooden slats


▲ For each of the 3 exterior finishes listed above, there are 6 different sections available! Yes, that's a total of 18 different wall sections (and another 16 end walls!!). Here are the first three, from left to right:
Open shutter window section
Vertical wood bar window
Closed shutter window section


▲ ... and then there are these:
Shoji (paper screen) doorway
Sliding door doorway
Solid wall section
The shoji screen doorway has a slightly higher frame, to match the interior tatami sections (more on that later). All the above sections were printed at 0.1mm layers, but as you can see the clogged nozzle caused a few minor hiccups!


▲ In addition to the 18 main wall sections, which create the side walls of each house, there are 16 end walls too. All 3 exterior finishes are recreated here too, with matching doorways and windows.
On the far right you can see the special shoji screen doorway section, which is a double-frame end wall.


▲ Here is a simple mud-walled farmhouse. Construction is pretty simple - decide how long you'd like your building to be, and print that number of 4cm chunks. In the house above, I printed 3 wall sections (a doorway and two window sections), and then added two end walls.


▲ This is a slightly fancier farmhouse building, with wooden slats covering the lower part of the exterior walls.

▲ Perhaps the most 'rural' of the farmhouses, this will be a wooden exterior finish.
As you can see, the interior walls are also textured with a gentle bumpy surface and wood beams - ideal for quick painting. The floor surface is also subtly textured, although this house will be upgraded with some additional wooden and tatami flooring .... more on that later!
▲ The grandest of my houses will be this long four-section building. I plan to include lots of tatami mats in this house, so I added plenty of shoji screen doorways. Those four doorways on the left will have a wrap-around balcony corridor later on.




▲ Most peasant farmhouses in rural Japan only had one storey, but you could always add an extra level if you really wanted to go big!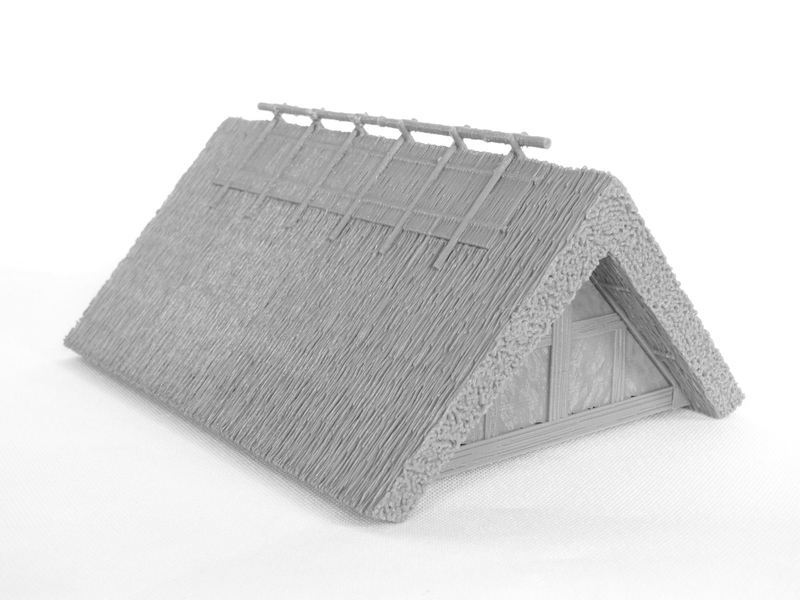 ▲ For the regular sized 3-section houses, this would be one version of the roof. You simply print one less main roof section than the walls (so 2 in this case), and then print 2 end roof sections. I printed all the roof sections at 0.2mm layers.
This roof version is the gable-end thatched version, with a mud-wall (a wooden version is also included). There will also be a hip-gable end version of this roof, which is a distinctly Japanese style of roof, and a poorer wooden planking version. Stay tuned for those pics!
▲ Here's a glimpse of the first completed farmhouse. Note the shallow stones under each of the supporting posts - these can be added to to richer dwellings, to give even more authenticity to your buildings!
Lots more pics coming soon!!



---
Introducing HEGEMONY, our new print partner in Greece...
2019-06-11
by
David
We're happy to announce our partnership with a brand new print partner, Hegemony, in Greece. They are now selling print versions of our Necrontyr terrain on their online store!

They are already offering our full range of Necrontyr terrain, so for those of you who don't have access to a 3D printer, but still want a full tabletop of our sci-fi Necrontyr terrain, jump on over and see what they've got for you!
---
Introducing FS3DPRINT, our new German print partner...
2019-06-07
by
David
FS3DPrint is a German 3D printing store, and they are now selling print versions of our Necrontyr terrain on their online store!

The full range (and maybe even other ranges?) will hopefully be appearing on their store in the near future. So for those of you who don't have access to a 3D printer, but still want a full tabletop of our sci-fi Necrontyr terrain, jump on over and see what they've got for you!
---
Designing the modular farmhouses
2019-05-27
by
David
It's been a light month for work-in-progress pics on the blog so far, and that's because the new samurai farmhouses have taken quite a bit of careful planning!
To ensure this set is super useful to everybody, the houses are modular - with multiple versions of walls, floors and roof sections! They also come with fully detailed interiors!
▲ The interiors of houses will feature different floors, and the most important one to get right was of course tatami mat flooring. These are distinctively Japanese, and are still used in many new modern-day houses.
If you choose to use tatami mats for your house flooring, you simply work out the layout and print that number of mats. They all print separately, on their sides, so that print lines match up with the lines of the matting.


▲ The main sections of the houses are printed in 4cm-wide sections, and approximately 8cm long from wall to wall. Both walls are fully textured inside and out, and 3 different exterior wall versions will be included.


▲ In addition to that, for each of the 3 exterior versions (horizontal slats, mud walls, and vertical wood), there are also 6 different wall sections:
solid wall
doorway (with real sliding doors)
barred window
open shutter window
closed shutter window
shoji screen door
The last one, the shoji paper screen doors, are at a slightly higher floor level than the regular doorway, so that they can also be used to connect interior flooring (e.g. tatami rooms) to the exterior add-on sections such as outside corridors and extra corner nooks. More on that next time....
▲ The roof sections are also designed to be modular, and are also 4cm wide. This means that you can expand your buildings to any length, and get a good variety of building shapes and styles in your farming villages.The internal roof braces also serve to keep the roof in the correct place, as they are fully removable. The underside of the roof sections are also fully textured!
The pic above shows the middle section of the thatched roof, which will have two different shape versions to cap the ends with. Another roof variant will be a shallower-sloped wooden roof, with the distinctive stones on top to weigh it down.
More pics to follow soon, once we've finished printing our demo houses!
---
MORE >>