3DAlienWorlds BLOG
Pagoda research trip
2021-06-18
by
David
The next building for the samurai temple collection will be a classic pagoda, and I was lucky to find one of Japan's top pagodas located only a 90 minute drive away, in Yamaguchi prefecture.




£ This is the gorgeous 5-storied pagoda at Ruriko Temple, built in 1442, overlooking this large fish pond. It's all wood, even the roof, and will form the basis for my pagoda model.


£ On this little research trip I wanted to get a close look at the details of the building, and if possible what it looks like inside.


£ Just look at the wood details in this photo! Hopefully the upcoming model will match this in terms of details, although I think perhaps a stone base and roof tiles will also look great.


£ Seeing me measuring the base width of the pagoda for reference purposes, the volunteer staff were very interested in my little project! 3D printing is still mostly unknown in Japan, and most people have never even seen the technology at work, and they were keen to help!
I was very privileged to be shown what the inside of the pagoda looks like, as few people ever get to see it. Opening doors on each of the 4 sides lead into this very cramped space, with 4 columns (on the first level) surrounding a massively thick wooden column in the centre. That column goes all the way up to the top of the building, and lets it flex and sway when necessary (earthquakes etc).
I was surprised to find that there are in fact no internal steps up to higher levels, so I will have to provide some ladder access to the second floor on my model, since the Ruriko pagoda building actually has a narrow balcony on the 2nd level.
£ The kind staff also provided me with some detailed schematics of the building, made a few years ago during repair work. Combined with my own reference photos, I think I've got everything I need to recreate it perfectly.
So we're all set to start on this fantastic building, and I'll be sharing work-in-progress shots as we go along....
Tags:
samurai
design
---
Stunning customer pics!
2021-06-16
by
David
Apologies to all our customers who've posted their awesome photos over the past couple of years (thanks, everybody!) - today we have possibly the most realistic customer pics you'll EVER see!
These absolutely stunning lifelike vignettes were printed, painted and posed by Franktactica on TabletopDeutschland.com, and seem to mostly be from our farmyard and farmhouse sets. The miniatures appear to be mostly Perry Miniatures civilian models, which add some great atmosphere and life to the pics. I just wish I knew where the background photo came from - it's perfect!
Prepare to be amazed......




£ This looks so real!




£ The wonderful custom-made board suits this terrain so well - you can feel the squelch of the rice paddies between your toes.




£ These minis are from a Perry Miniatures set of workers, and the rice bail cart looks perfect next to them.




£ Jeez, man, stop drinking and tidy up a bit!




£ This scene is so full of life!




£ This village looks ideally old and weathered, much like most of its inhabitants.




£ A priest paying a visit.




£ The little boxes and storage accessories look great here.




£ Needs a good clean, this one!




£ An excellent mini to use in this interior.




£ A secret meeting, perhaps?




£ Time to load the rice.




£ He's used the wooden walls set too, but without the roof sections. It's a distinctly Japanese style of fence.




£ Still drinking...




£ A mini farmhouse. Storage room, perhaps?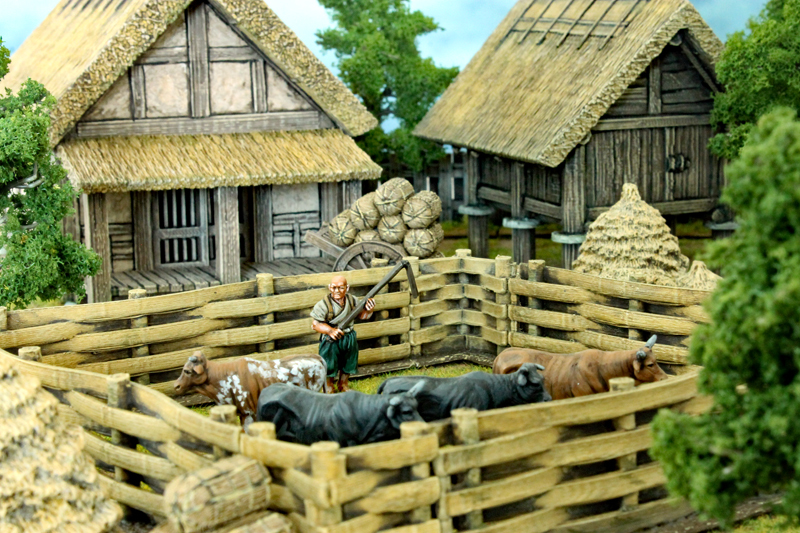 £ Not sure where the cow minis are from, but the bamboo fence from the farmyard set works well here, too.




£ The village's busy main street.


£ More visiting priests.. while that guy drinks his day away......
Tags:
samurai
---
Samurai Temple Outer Gate available NOW!
2021-06-12
by
David
Probably the most authentically-detailed model so far, the latest addition to the samurai temple collection is officially released today - the new..... er.... old Temple Outer Gate building!

Samurai Temple Outer Gate


£ The new temple gate building fits perfectly with the surrounding Temple Walls set, and lets you build a complete modular temple area!


£ The outside of the gate building has these wide steps, which some drunk old dude is using as a resting place while he drinks himself into a stupor. The temple guards are not very pleased to see him!


£ The inside of the gate building features these huge deity statues, and you can see how they dwarf the temple guard troops in size. In this photo you can also see the authentic details of the supports under the balcony and roof eaves, and those fantastic curved roofs.


£ Some enemy troops storm into the temple complex, while temple guard sohei spearmen rush to push them out!


£ The second level is fully playable, with a detailed interior and working doors. Here a priest plays the shakuhachi bamboo flute from the balcony.
Hey, wait! Is that drunk guy back in here AGAIN?!?
I'll have to name him 'Uncle Dave'.
The Samurai Temple Outer Gate is available for download from today!

Samurai Temple Outer Gate
Tags:
samurai
release
---
Painting the samurai outer gate building
2021-06-11
by
David
This is going to be a general guide to choosing a paint scheme for the Temple Outer Gate, rather than a detailed how-to guide. If you're keen to see the details of how this building was painted up, please take a look at the blog about painting the temple walls - this building was completed using the same colour scheme and techniques!


£ When you're choosing a colour scheme for your gate building (and the rest of the temple walls), you traditionally have 2 options to choose from. The first is this fully-painted style, which was perhaps a little more common in urban settings, where more money might be available.
The wall panels tend to be white, with most of the wood painted this eyecatching orangey-red - used for structures in both Buddhism and Shinto religions. If you do an image search for inspiration, you'll see many of them have the ends of wooden beams painted in yellow. The fences around the nio deity statues, and the window bars, are often painted green.


£ Option 2 for your colour scheme is to leave the wood unpainted. This is more common at rural temples, although the one pictured above is actually in Tokyo. The wood tends to be very old, and often darkens with age where it's not so exposed to weather.
If you look at the roof of the building, you'll see it's bright green - which is quite unusual. It's certainly very eye-catching! The ends of beams also seem to be painted white, which looks good against the dark wood... but I'll admit I've never seen that before.


£ I chose to paint my gate building to match the rest of my walls, in light wood with plenty of weathering. I basecoated everything with spray rattlecans in sub-assemblies, as shown in the photo, to make it easier to get a paintbrush into all the nooks and crannies. The photo shows everything ready for washing. After washes, I drybrushed heavily, then glued it together and then finally added brown and green washes to age it.





£ The deity statues can be painted up in a variety of ways. The photo above shows the most gaudy style, where the whole statue is splashed with bright colours and gold leaf.


£ If the fully-painted style is too bright for you, why not try a half-painted approach? Here, only the gold and red really stand out as painted, with perhaps some facial details picked out for eyes and teeth.
£ This last version shows (I assume) a very old statue, where any paint has mostly faded away, and you're left with the wooden statue underneath. Most statues would be wood, of course, but a verdigris copped would also look fantastic, I think!
£ Here's a sneak peek on the colour scheme for my statues. I just chose to leave them as bare wood, with heavy drybrushing. You can also see the light grey drybrushing and green washes around the bases of the pillars, which help to give the old wood a sense of great age.
The outer gate building will be released tomorrow, so watch this space!
Tags:
samurai
painting
---
Assembling the samurai temple outer gate (2nd level)
2021-06-09
by
David
Well done on assembling the first level of the Temple Outer Gate building! Today we're going to crack on and finish the rest of this large model, and here are a few tips and tricks to help you....





£ We're going to start with the second level balcony. This can either be printed in 4 quarters and glued together, or printed as one larger piece if your printer bed is large enough.
Once you've printed the balcony, you'll need to carefully remove a few built-in print supports. These supports are at the top of every other post, connecting the middle and top railings (as shown circled in red in the photo above). It's optional to remove these, but I recommend doing so - the railing will look much more authentic!


£ Glue your balcony pieces together, and they should slot neatly onto the joining pegs on the top of the first level. I recommend not gluing the balcony on yet, as it might help you to paint hard-to-reach places later on.


£ The floor for the second level room is simply made up of 4 planked sections, and 1 planked section with a trapdoor. You should be able to fit these neatly into the space in the centre. It makes sense for the trapdoor to go in a back corner, where the steps from ground level would emerge.


£ The second level room is made up of 2 identical pieces, which are printed upside down and do not require supports. Instead, you'll see that each window space has 2 built-in supports (circled in red in the photo above), which should be carefully removed with cutters.


£ Next you'll need to print 4 doors, which slot into the doorframes as shown. I used 1mm brass wire inserted in the holes. Those doors can be reversed, by the way, if you prefer less ornamental styles.


£ TIP: If you cut the wires 2 or 3mm shorter than the top of the holes, then you can close the holes with a spare bit of filament. I found these 1.75mm diameter cut-offs were a perfect fit, with a dab of superglue. They will stop your brass rod falling out when the room is turned over.


£ See? You can smoothly cut the extra filament off smoothly with a sharp knife.


£ Lastly, for this room, you'll need to print 4 of your chosen window type. The normal version has five vertical bars, but a shuttered version and an ornamental version are also included. Just push them in to the window frames from the inside.


£ For now, you might not want to glue the room in place on the second level - it will be much easier to paint the interior separately. I left my two room halves as two separate pieces, for even easier painting.
£ We're almost done now! The last sections to print are the roof pieces, which are printed as 4 quarters for smaller printers, or 2 long half pieces for those with longer print beds. None of these require print supports.
If you look closely at the corner of each piece, however, you can see there is a tiny built-in print support holding up the tip of the decorative tile. You can carefully remove this with a sharp knife or cutters, or leave it in place if you prefer.
So, your model is now complete!!! Congratulations!
It's time for some finished pics.......


£ Fully assembled, it's a pretty big building! With the base section, it's 240mm wide (270mm wide at the roof) and 270mm (11") tall!


£ With those large gates closed tight, the front of the building is pretty imposing.


£ From this model's eye view of the back (the 'inside' of the temple), you can see the intricate supports underneath the balcony and the roof.


£ Even without the base section, you can see how impressive the gate building and its deity statues look!


£ You can even leave off the side roof sections, and use this as a stand-along building if you prefer.
* There will be more stand-alone temple buildings coming soon, by the way!
£ This is the front view of the stand-alone version of this building, without the base section.
This large model will be hitting the paint desk today, and should be released very shortly!
Tags:
samurai
assembly
printing
---
MORE >>