3DAlienWorlds BLOG
Necrontyr Modular Hill complete!
2017-11-30 at 11:11AM
by
David
A big, BIG set for the Necrontyr range has been completed...... a modular hill set!
Everything has been designed in 120x120mm chunks, so you can just keep printing and cover an entire table!


There are straight sections, with engraved markings and cut-out grills to give that Necron glow from LED tealights....




There are step sections, with Necron-themed star patterns that link up to the other sections...




There are corner sections, with cut-out Necron symbols in the sides for more LED spookiness...




There are the centre sections, to support multi-layer hills and still allow LEDs to shine through...




.... and then there are fancier center sections, with a choice of either solid engravings...




.... or cut-out star map engravings, which allow LEDs to shine through the central floor sections!




Here's a close look at how great these sections can look when combined...


Here's a 2x2 hill (approx 240x240mm), made up of 4 corner sections...




Here's a 3x3 hill (approx 360x360mm), made up of 4 corner sections. 4 straight sections and 1 centre section...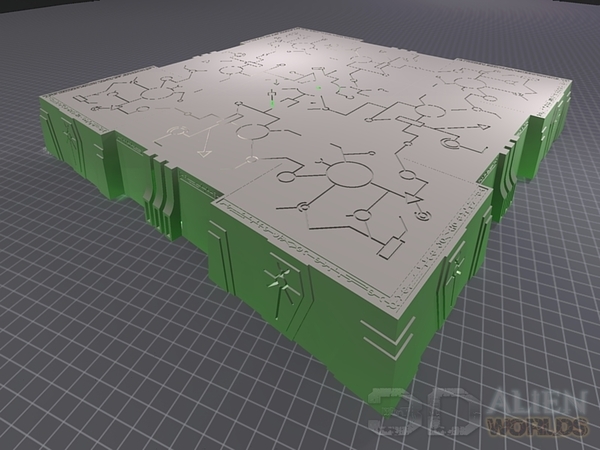 Here's that same 3x3 hill, with step sections instead of straight sections...




Getting pretty big now, you can even stack 3 wide on top of a 4-wide base (approx 480x360mm, and 100mm high)...




Here's a two level 5x3 hill (600x360mm)...




And here's the biggest size - a 5x5 hill, covering a massive 600x600 area of your board!




Finally, here are a couple of image shots, showing how well these hills can be combined with the Objectives Set we debuted last week...




And the big daddy, a 5x5 two level hill, topped with a glowing objective marker!


Let us know what you think - we'd love to hear your comments!!
Tags:
necrontyr
design
0 Comments :
---
Write a comment :