3DAlienWorlds BLOG
Stunning customer pics!
2021-06-16
by
David
Apologies to all our customers who've posted their awesome photos over the past couple of years (thanks, everybody!) - today we have possibly the most realistic customer pics you'll EVER see!
These absolutely stunning lifelike vignettes were printed, painted and posed by Franktactica on TabletopDeutschland.com, and seem to mostly be from our farmyard and farmhouse sets. The miniatures appear to be mostly Perry Miniatures civilian models, which add some great atmosphere and life to the pics. I just wish I knew where the background photo came from - it's perfect!
Prepare to be amazed......




£ This looks so real!




£ The wonderful custom-made board suits this terrain so well - you can feel the squelch of the rice paddies between your toes.




£ These minis are from a Perry Miniatures set of workers, and the rice bail cart looks perfect next to them.




£ Jeez, man, stop drinking and tidy up a bit!




£ This scene is so full of life!




£ This village looks ideally old and weathered, much like most of its inhabitants.




£ A priest paying a visit.




£ The little boxes and storage accessories look great here.




£ Needs a good clean, this one!




£ An excellent mini to use in this interior.




£ A secret meeting, perhaps?




£ Time to load the rice.




£ He's used the wooden walls set too, but without the roof sections. It's a distinctly Japanese style of fence.




£ Still drinking...




£ A mini farmhouse. Storage room, perhaps?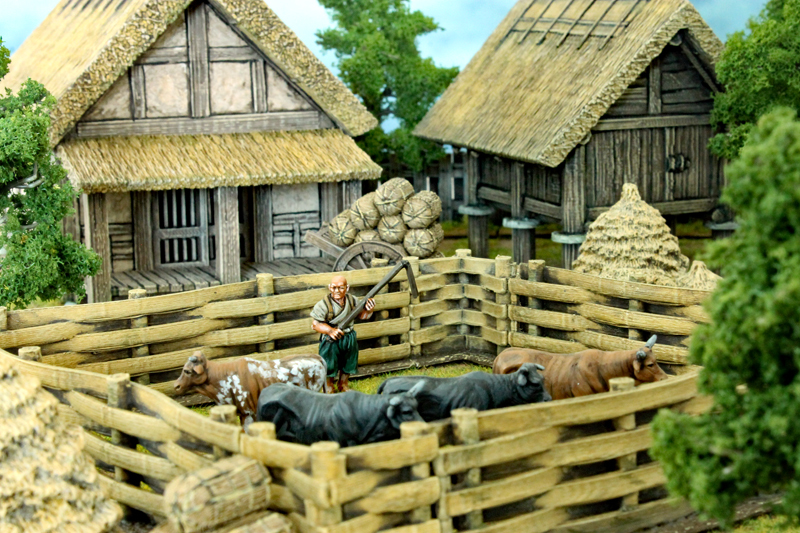 £ Not sure where the cow minis are from, but the bamboo fence from the farmyard set works well here, too.




£ The village's busy main street.


£ More visiting priests.. while that guy drinks his day away......
Tags:
samurai
2 Comments :
---
Ja
2021-07-20 (Tue) 8:50AM
This set up is excellent. Nice pictures too. Really shows the quality of all of it.
---
David (3DAlienWorlds)
2021-07-20 (Tue) 10:42AM
I totally agree, Ja! He's done a magnificent job there.
I love my printed photo-quality battlemats, but seeing these photos with his very realistic ground textures, I'm starting to reconsider!
---
Write a comment :